Static stabilometry in standing and bipodalic support
Clinical use. The static stabilometry in standing and bipodalic support, is used for the study of imbalances and postural attitude (muscle chains). Patient simulators or functional patients can be studied. In unipodalic support, the instabilities resulting from tibio-tarsal and knee distortions are evaluated.
Protocol. It is divided into three ways:
1. Standard stability
2. Stabilometry with a retroflexed head
3. Postural stability
4. Monopodalic pathology
1. The patient is placed in a standing static station without shoes with limbs along the trunk, heels approached no more than 2 cm, spikes spread at 30 ° (plumb line test) for 30 seconds with open eyes (OA) and closed closed (OC).
2. If the retroflex test is performed also here for 30 seconds at OA and OC with the same posture (see first)
3.The test is performed with the same posture but at 51.2 seconds
4.The patient is positioned in a static standing position with the lower limbs positioned as in standard stabilometry using a retractor or with the feet positioned one on the platform and one on the support wing (depending on the application used). The upper limbs can be maintained abducted from the trunk or along it. The test is always performed in monopodalic support at OA and OC for 5 or 10 "first on a right or left limb (pathological), then on the contralateral limb.
Procedures. The indicators used are qualitative and quantitative, chosen on the basis of the pathology and disability as per the literature among the following:
1. Statokinesigram
2. Stability chart
3. Length of the track
4. Subtended area
5. Speed ​​in m / sec
These indicators are then compared with normal values ​​as in the tables of literature. Or compare with each other (monopodalic stabilometry).
Execution times for the exam: 1 minute for standard stabilometry; if with proof retroflected head 2 minutes; for Postural Stabilomentria 51.2 seconds; for 10 "monopodal stabilometry.
Conclusions: within 30 minutes the operator analyzes the data (indicators), prints the graphs and draws up the conclusions, handing it over to the patient in a sealed envelope.
The report written and signed by the doctor with the diagnostic conclusions, the prescriptions or therapeutic recommendations or in-depth clinical studies (MRI, CT etc.) is given to the patient after the examination. If the patient is a physiotherapist / rehabilitation expert, based on the disability, the project and the objective are provided as per PRI (individual rehabilitation plan).
Instrumental examinations may be repeated for normal follow-up based on the indicators to be checked over time. The control over time is prescribed by the same doctor if considered useful.
<![if !vml]>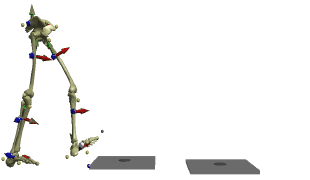 <![endif]>